SIU Law graduate, Jake Yates '19, exemplifies law school's mission of public service
May 16, 2019, by Pete Rosenbery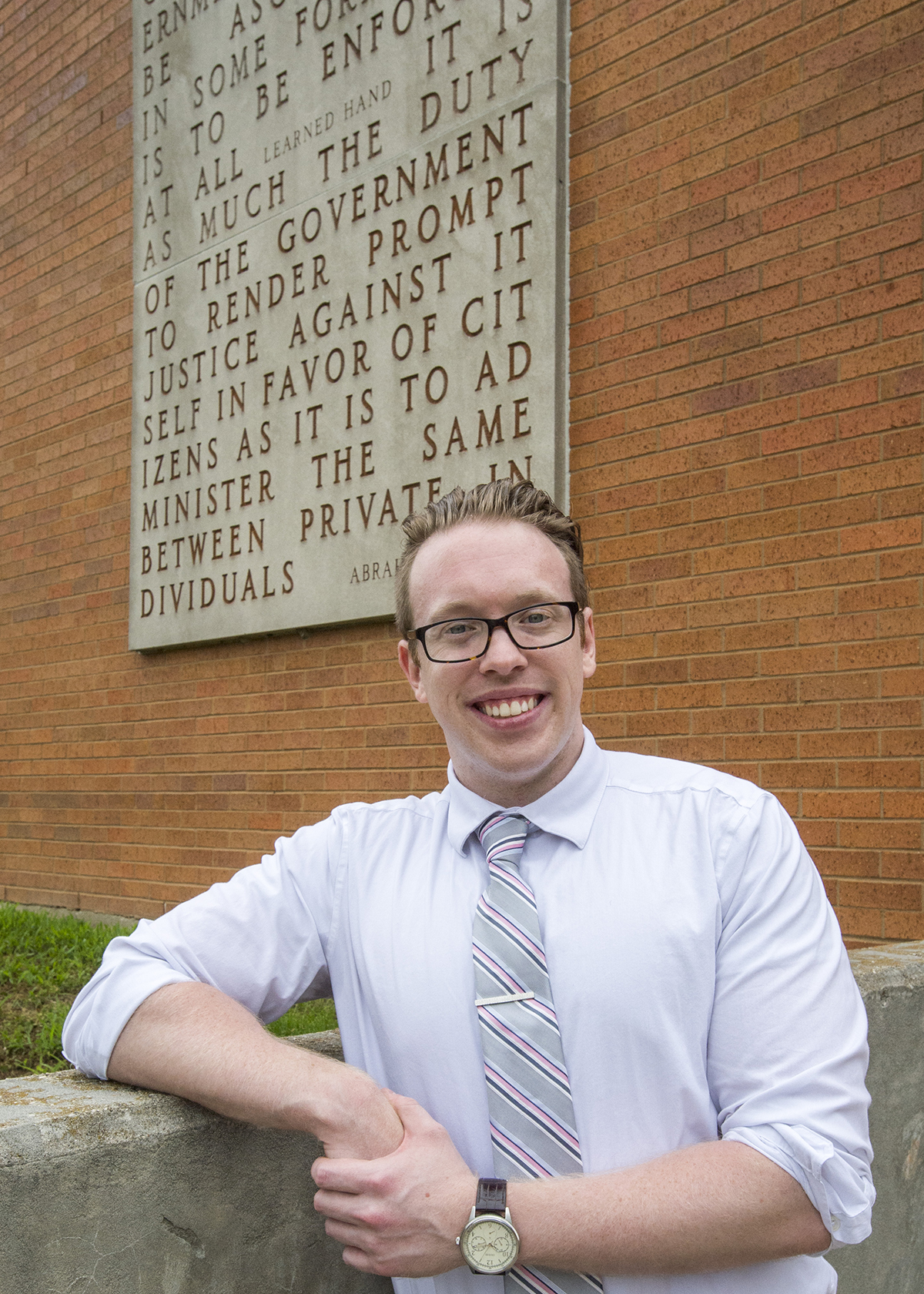 Sustaining the law school mission – Jake Yates, who earned his degree from the SIU School of Law this spring, provided more than 680 hours of pro bono work in 15 months working for Land of Lincoln Legal Aid in Carbondale. 
(Photo by Russell Bailey)
CARBONDALE, Ill. – The opportunity to help others was among the reasons that Jake Yates opted to go to law school.
Yates, who earned his juris doctorate May 10 from the SIU School of Law certainly met, and exceeded, that expectation while at Southern Illinois University Carbondale. Yates exemplified the school's standard of serving the public good with 683.6 hours of self-reported pro bono work for Land of Lincoln Legal Aid in Carbondale over a 15-month period between January 2018 and April 2019.
The experience of assisting people in need of legal help was rewarding, said Yates, 27, the son of Sue and Mark Yates of Bonne Terre, Missouri.
"I found it very fascinating," he said. "You get to see people from all different walks of life. And you can see how you helped in their lives and how hopefully better their lives are."
Honored at commencement ceremonies
Yates was recognized at commencement exercises for accumulating the highest pro bono hours among the 76 Class of 2019 graduates. Records dating back to 2015 show Yates ranks second among graduating students in pro bono hours.
He earned his bachelor's degree in criminology from the University of Missouri-St. Louis in 2014. Yates said he knew he wanted to continue on with graduate school and took a couple of years to evaluate everything to see what was best for him.
He came to the law school in August 2016 and chose SIU because it was close to home and the small setting "really won me over." Yates is staying in Southern Illinois as he prepares for the Missouri Bar Exam this summer, but will move back to his hometown afterward.
He's unsure what type of law he wants to practice but his favorite areas were employment law, bankruptcy and criminal procedure.
Involved in a variety of legal work
Yates came to Land of Lincoln on the recommendation of a friend, said Sandi Gordon, a staff attorney who supervised Yates' work. In addition to learning office procedures, Yates conducted client interviews, worked on motions and case preparation. He was involved with cases dealing with debt collections, bankruptcies, case expungements and assisting in student loan cases.
The pro bono accomplishment is something Yates said he didn't think about. He worked an average of 15 to 20 hours a week during each of his last three semesters in law school, along with 30 to 35 hours a week in summer 2018 while taking two weeks off for vacation.
After earning his Illinois Student Practice License, or 711 License last summer, Yates represented clients in court under the supervision of a licensed attorney. One of the harder things was to get up and "figure out what to say to the judge and make sure everything is in order," he said.
"It was a great learning experience," Yates said. "It's something I cannot ever lose."
Experiential learning was a benefit
The internship aided Yates' classroom work. He was able to increase his knowledge in areas including legal research and writing, expungements, and memo drafting.
The pro bono experience and the variety of internships and externships that students can be involved with allow students to see what the practice of law is like in a very condensed setting, and allows them to explore career interests, Mike Ruiz, assistant dean for career services and special projects, said. Ruiz oversees the law school's pro bono requirement program.
Students gain appreciation for people in need of help
Gordon likes that law students who work there gain an appreciation for the plight and special issues that many people face. Yates had a good relationship with clients, including one who was wondering where Yates had gone to once his pro bono work was complete, she said.
Yates was "very dedicated to helping the indigent. It was very rewarding to see," she added.
With the varied clients and cases Yates was involved with, Gordon said she is confident that Yates will continue to work hard as he starts his career. 
"I'm confident that he will be successful in his legal practice," she said. "He received a lot of experience and made an effort to learn. He will be able to dedicate that type of energy and effort in his career." 
Commitment to serve the public good 
Established in the public interest in 1973 to serve the public good, the law school was the first in Illinois to include pro bono work as part of a graduation requirement. Students must complete 35 hours of approved pro bono work that is law-related, uncompensated, supervised by an attorney, and not for academic credit. 
Yates is now one of 4,570 graduates of the law school, which held its first commencement in 1976. 
Although pro bono work by licensed attorneys is strongly encouraged, Illinois does not have a pro bono requirement, according to the Illinois Bar Association. The pro bono work by students gets them out into the community, strengthening their skills and building resumes, Ruiz said.
"Yates took advantage of that in a special way," Ruiz said. "He's clearly committed to serving the public good. You put that number of hours in for something that you are not getting credit or pay it shows that you are dedicated to something more than yourself."