SIU law professor Cindy Buys observes firsthand Ukrainian humanitarian effort while teaching in Poland
June 29, 2022 , by Pete Rosenbery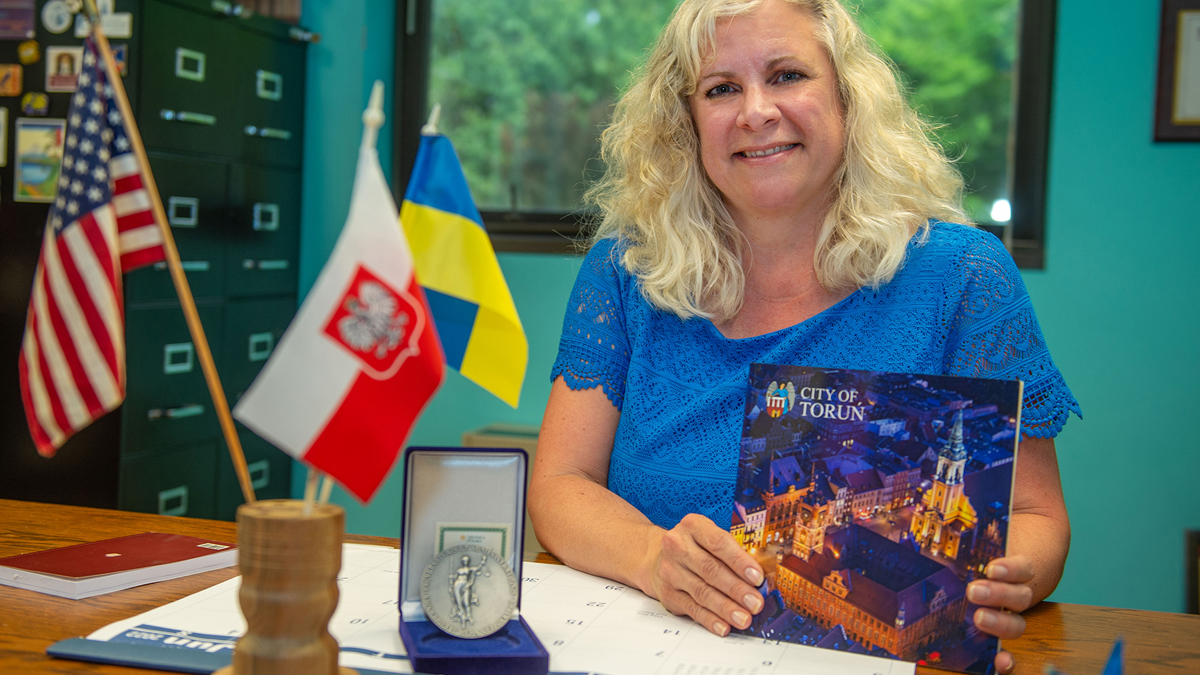 CARBONDALE, Ill. — Southern Illinois University School of Law Professor Cindy Buys, an expert in immigration and international human rights issues, witnessed the impact of war firsthand when she spent two months teaching classes at Nicolaus Copernicus University in Toruń, Poland, which is about four hours from the Ukrainian border.
In addition to providing students with a greater understanding of international business, negotiations and an introduction to the U.S. legal system, Buys also helped with an initiative to investigate Russian war crimes and learned more about Poland's own history with the former Soviet Union. In the midst of turbulent circumstances, she said, the experience reaffirmed her faith in humanity.
Uncertainty over what to do
A city of nearly 200,000 people in north-central Poland, Toruń saw its population increase by as much as 10% since February, Buys said. The university worked to help both students and faculty; Ukrainian male students 18 and older could apply for a waiver to continue their studies instead of returning home to fight.
"They felt a lot of guilt about not being home and helping fight, but on the other hand, they were safe and wanted to finish their education and so it was a very, very difficult decision," she said, adding she felt "the stress, the worry and fear every time you talked to the Ukrainians who were in Poland."
A judge whose court is in Kyiv and who had been a visiting professor at the university fled to Toruń with her son because she knew people there. She had to decide whether to get a new job in Poland or return home, Buys said.
"Just the everyday stress of not knowing what to do. They had family and friends back in Ukraine that they were worried about every day," Buys said.
'This ray of hope and solidarity'
Buys said some of her Polish colleagues were paying for apartments for Ukrainian families and that many Polish citizens opened up their homes to refugees. Several colleagues had entire freezers filled with pierogis — a traditional food for both Ukrainians and Poles — made by Ukrainian women to earn some money. At every train station, tents or rooms were set up for where arriving Ukrainians could be connected to local resources, including if they needed to enroll children in school.
"The people in Poland were giving money, food, medical supplies, clothing and everything for the Ukrainians. The solidarity with Ukraine was really amazing," she said.
These efforts can "reaffirm your faith in humanity when things look terrible, when you see how generous people are; how much they want to help other people," Buys said. "We often hear about refugees being turned away at the borders – whether it's our own, in Europe or other places in the world. Poland, in particular, and other European countries really opened their arms and welcomed the Ukrainian people."
Buys said the work was a "civil society effort" not necessarily directed by the Polish government.
"People wanted to do something to help," she said. "It was very reaffirming when every time you turn on the TV and you see bombing and Mariupol in ruins and a pregnant woman on a stretcher dead because they bombed the hospital. At least, there was this ray of hope and solidarity that people had, so that was a really positive thing that came out of it."
A 'bit of nervousness'
Buys signed her contract to teach at Nicolaus Copernicus University about a week before Russian President Vladimir Putin invaded Ukraine on Feb. 24, 2022. While family and friends asked if she was still going, Buys said she felt reasonably safe as most of the fighting was in the eastern half of Ukraine. Because Poland is a member of NATO and the European Union, Buys believed if something were to happen in Poland, "we were talking a whole different level of conflict that the United States was going to be in as member of NATO."
She viewed it as a once-in-a-lifetime opportunity to observe a conflict and refugee crisis, help convey what was happening and use her expertise as an international lawyer to assist the refugee or international humanitarian situation.
She participated in the Ukraine Accountability Initiative, run by the U.S.-based Public International Law & Policy Group, which investigates war crimes. Buys went through training to conduct interviews with Ukrainians to document any war crimes they might have seen and then worked to connect people in the United States with people in Poland and Ukraine to set up the interviews.
"There are clearly war crimes happening in Ukraine, no doubt," Buys said. "On June 16, they showed that a Russian bomb hit a World Food Kitchen convoy of food in Ukraine and destroyed a lot of the humanitarian aid that was going to the people. For it to be a crime, it has to be intentional, but it certainly seems like the Russians are bombing indiscriminately, so in my opinion, from all of the evidence I have seen, I think there are definitely war crimes and crimes against humanity."
Read the complete story here