SIU School of Law to honor alumni judges, kick off 50th anniversary
October 10, 2022 , by Pete Rosenbery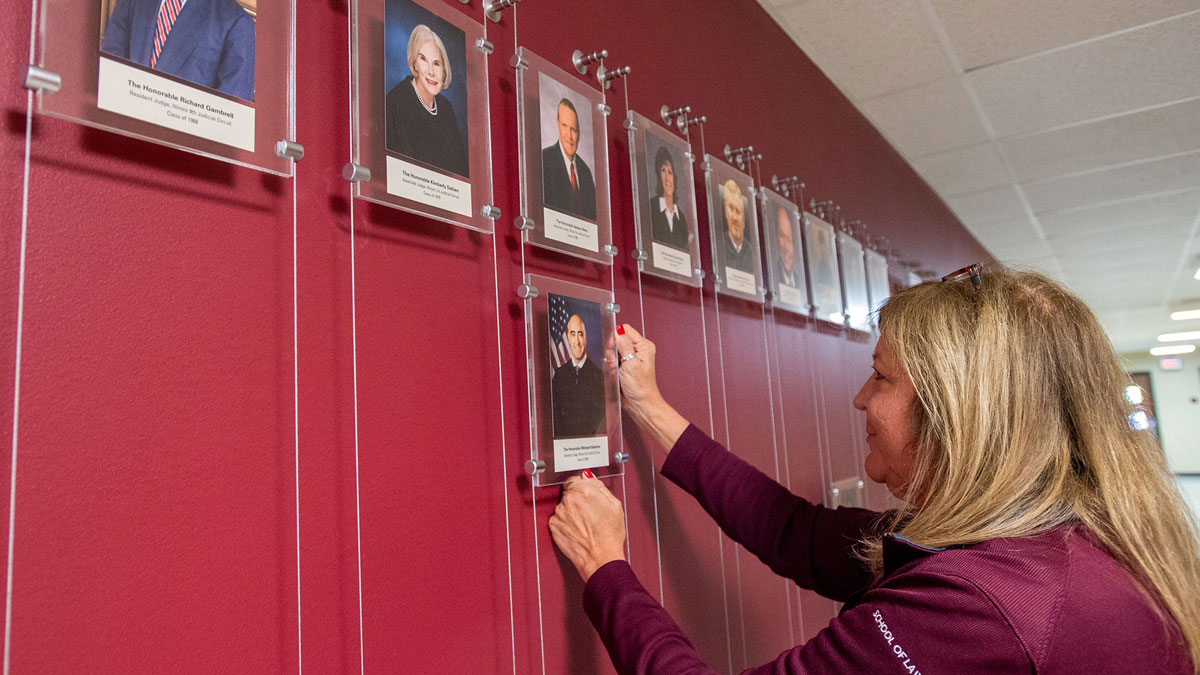 As the SIU School of Law prepares to start celebrating its 50th anniversary, Judi Ray, assistant dean for administration, hangs a photo of a law school graduate who later became a judge. The law school is honoring these alumni with a Hall of Judges. (SIU photos by Russell Bailey)
SIU School of Law to honor alumni judges, kick off 50th anniversary
CARBONDALE, Ill. — The Southern Illinois University School of Law is recognizing its past and applauding its present and future as it kicks off its 50th anniversary celebration.
Founded in 1973 in the public interest to serve the public good, the law school is unveiling its Hall of Judges that honors the more than 160 SIU Law graduates who have become judges. A reception to unveil the display and start the yearlong celebration is set for 5 p.m. Oct. 13, in the law school's Hiram H. Lesar Law Building Formal Lounge. The event runs from 4:30 to 6:30 p.m. and is open to the public.
SIU Chancellor Austin A. Lane and SIU Board of Trustees Chair J. Phil Gilbert, a senior judge for the U.S. District Court for the Southern District of Illinois, will provide opening remarks.  
"Judges are public servants," Dean Camille Davidson said. "As we celebrate 50 years, what better way to honor our legacy than by showcasing all of our alumni who have chosen to serve the public as members of the judiciary?"
Lane said the honored judges are exemplary Salukis.
"This Hall of Judges is a visual reminder of the power of imagination," he said. "As law school students, they imagined a better world and what role they could play to make it a reality. Today, they are servant-leaders in their communities, states and the nation. I am proud to call them fellow Salukis and excited to honor them."
Read the complete story here.