Making the case: SIU Law students get real-life experience in Metro East Criminal Justice Clinic
November 23, 2022 , by Pete Rosenbery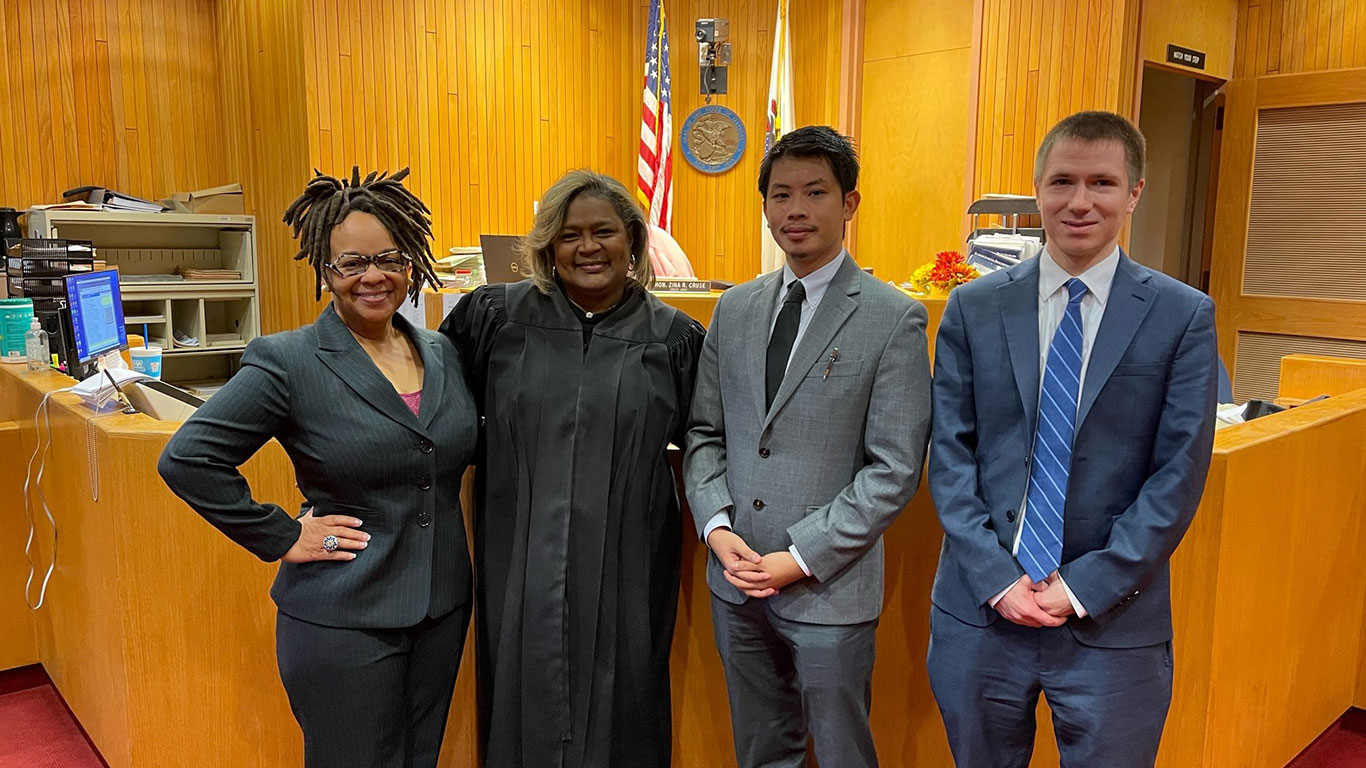 SIU Law students Jordan Blazek-Guinan (gray suit) and David Voss (blue suit) stand with Circuit Court Judge Zina Cruse (black robe) and Shelly Page, SIU Law experiential education director (next to Cruse). (Photos provided)
Making the case: SIU Law students get real-life experience in Metro East Criminal Justice Clinic
CARBONDALE, Ill. — Southern Illinois University Carbondale School of Law students David Voss and Jordan Blazek-Guinan are gaining an intimate look into the state's legal system and taking an active role in criminal legal proceedings.
During the inaugural semester of the law school's Metro East Criminal Justice Clinic, Voss and Blazek-Guinan are working in the St. Clair County state's attorney and public defender offices, respectively. The program started in mid-August.
"It is a wonderful program that anyone thinking of pursuing a criminal law career should take," said Blazek-Guinan. "The experience and learning opportunity are invaluable and just short of actually being an attorney for a semester."
Under Supreme Court Rule 711, Voss and Blazek-Guinan, both third-year law students, make court appearances, counsel clients, review evidence, present motions, negotiate plea deals and prepare documents. Both will graduate from law school in May 2023 prior to taking bar exams.
"I was surprised at how quickly my supervising attorneys had me talking to defendants, doing plea bargaining and compliance, on my own," said Voss, who is working in the state's attorney's misdemeanor and traffic division. "I enjoy the challenge of it. I was also pleasantly surprised that they have been giving me cases to argue at trial."
Few law schools offer this experience
Professor Shelly Page, the law school's director of experiential education, noted few law schools in the country offer "these types of immersive experiential learning opportunities. We are unique in this regard and want current and prospective students to know that we will do all we can to make sure that they can receive these kind of experiences."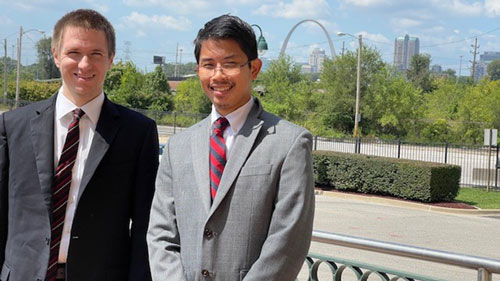 Blazek-Guinan and Voss live on the Southwestern Illinois Justice and Workforce Development Campus in Belleville, the former Lindenwood University campus, which is 6 minutes away from the courthouse. In addition to the 9 credit-hour externship, they both take an online law class in a regular class setting.
Retired 20th Judicial Circuit Judge Annette A. Eckert is one of the program's instructors. Along with experiential learning, Eckert noted the knowledge Blazek-Guinan and Voss are gaining by attending "problem-solving courts" and learning firsthand from judges the alternative ways to handle criminal cases, which allows them to see "the criminal justice system from a wider perspective."
Blazek-Guinan and Voss have done well as evidenced "by the cases that they have been assigned to work on and the amount and complexity of the hearings and trials they have done in each office," Eckert said.
Read the complete story here