Main Content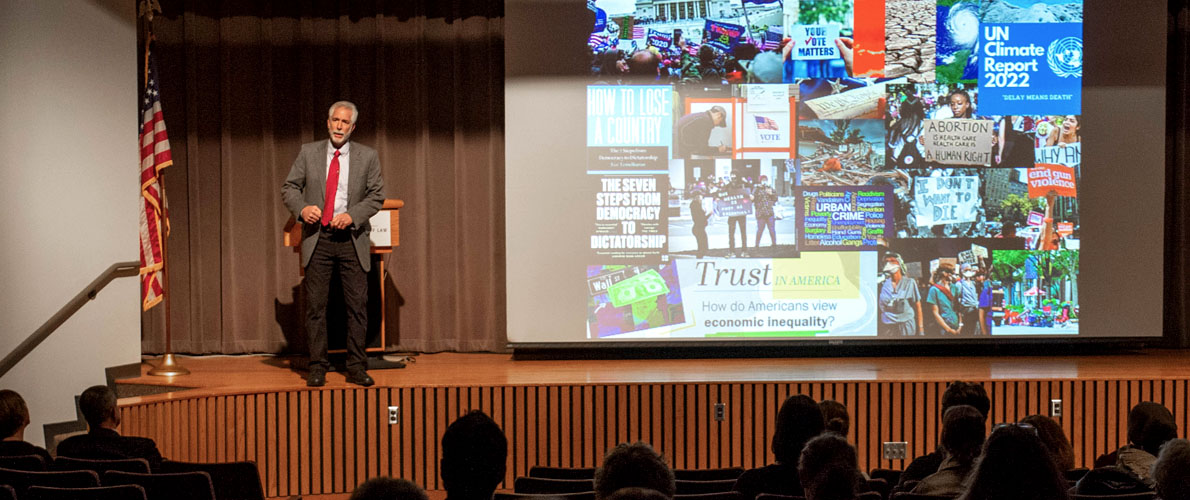 The SIU School of Law hosts a series of lectures each year that honor the name and legacy of supporters of SIU Law. The students, faculty, administration, and staff of the law school work together each year to find topics relevant to the current legal climate, particularly in areas of social justice, civil rights, bioethics, human rights, and voting rights.
Fall 2022 Lectures
Gene and Katy Simonds Lecture
Hiram H. Lesar Lecture
The Hiram H. Lesar Distinguished Lecture Series was established by the School of Law in 1992 to honor founding Dean Hiram H. Lesar, whose many personal and professional concerns included an interest in civil rights.
In 1999, Dean Lesar was posthumously awarded the Founders' Medal by the School of Law for his leadership, integrity, and the vital role he played in establishing the Southern Illinois University School of Law.
The Gene and Katy Simonds Lectureship in Democracy was established through a gift from Emma K. (Katy) Simonds, a longtime supporter of Southern Illinois University Carbondale and the southern Illinois region. The funds support a lecture, symposium, or debate each year on a topic of current or recurring public interest, which explores common sense solutions to issues related to the common good by applying the principles of limited government, popular sovereignty, personal liberty, personal responsibility, and federalism.
The John and Marsha Ryan Bioethicist in Residence was established in 2006 to fund an annual residence and lecture by a law and/or medicine ethics scholar at the School of Law and School of Medicine at Southern Illinois University.
Each year, a leading bioethics scholar will present a public lecture on his or her scholarship, as it relates to law and medicine, at the law school in Carbondale and will present to students and faculty at the medical school in Springfield.  The bioethics scholar will also provide a presentation to the joint bioethics committees at Southern Illinois Healthcare.
The William L. Beatty Jurist In Residence allows students to supplement their traditional curriculum with the perspective and experience of the judiciary.
Each year, a distinguished jurist is invited to spend two to three days at the School of Law speaking in a variety of classes related to his/her area of responsibility and meeting with students, faculty, and staff in both formal and informal settings.