Main Content
School of Law Faculty and Staff
Our faculty have strong relationships and deep connections to the legal profession. Our students take full advantage of the opportunities these relationships create; they work with faculty on groundbreaking research, excel in field placements, and take on interdisciplinary paths that allow them to apply their passion to their profession. 
Through these experiences, our students learn how to work with people at every level and build relationships of their own. That's the SIU Law Advantage.
For media queries, contact Carly Holtkamp, 618-453-8312, carly.holtkamp@siu.edu.
Deans
CAMILLE DAVIDSON
Dean and Professor of Law
ANGELA UPCHURCH
Professor of Law, Associate Dean for Academic Affairs and
Curricular Development
JUDI RAY
Assistant Dean for Administration
MIKE RUIZ
Assistant Dean for Admissions and Financial Aid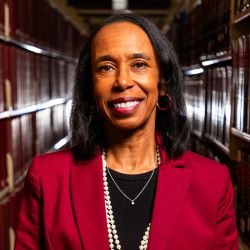 Welcome to the Southern Illinois University School of Law. I am honored to introduce you to our community. I encourage you to spend time on this website to get to know our faculty, staff, students, and alumni. I encourage you to look at course offerings and student activities and peruse faculty scholarship. In addition to this website, please follow us on Facebook, Twitter, and Instagram. Then, come visit and see for yourself all that SIU School of Law has to offer.
Location. Nestled in picturesque southern Illinois, SIU School of Law students enjoy the amenities of a major research institution and the charm of a small college town while being close to several major cities including St. Louis, Memphis, Nashville, Indianapolis, and Chicago. SIU School of Law is one of four public law schools in Illinois, and the only law school in the southern region of Illinois.
Mission. In 1973, the Illinois legislature established the SIU School of Law in the public interest to serve the public good. As we approach our 50th anniversary, we are steadfastly committed to our mission to transform our students into the lawyers and community leaders of tomorrow, empowered with the knowledge and skills to improve the lives of their clients and communities.
Faculty. The small class size and low student-to-faculty ratio fosters a closely-knit community of learners. Our students are taught by experienced faculty who are committed to excellent teaching and are nationally and internationally known scholars. They improve the law through their innovative scholarship and advocacy on issues of criminal justice, immigration, health care, disability rights, trusts and estates, intellectual property, and much more.
Curriculum. SIU School of Law will prepare you for whatever career path you desire. We are small by design; therefore, individualized legal preparation begins before the first day of classes. We offer specializations in many areas, including Health Law & Policy, Business & Transactional Law, Intellectual Property, International & Comparative Law, Litigation and Dispute Resolution, and Public Interest.
Concurrent degree programs include JD/MD (School of Medicine), JD/MSW (Social Work), JD/M.Acc. (Accounting), and JD/MBA (Business Administration).
Our award-winning clinical programs give students the opportunity to provide legal services to the community in areas of law that include domestic violence, elder law, juvenile justice, and veterans' benefits.
Community. We are committed to diverse ideas. SIU School of Law students engage with their colleagues by participating in various student organizations. They also participate in award-winning moot court programs, organize and produce topical law journal symposiums, and travel to foreign countries to engage with the global legal community. Additionally, they volunteer their time with many community organizations.
SIU Law's intellectual community is further enriched by annual lecture series, including the Hiram H. Lesar Distinguished Lecture, the John and Marsha Ryan Bioethicist-in-Residence, the Gene and Katy Simonds Lectureship in Democracy, and the Beatty Jurist-in-Residence.
Alumni. We are incredibly proud of our alumni. The SIU School of Law has produced more than 120 judges. Our alumni are in 49 states, as well as international locations. They are partners in major law firms, in-house counsel, politicians, leaders of nonprofit organizations, diplomats, JAG Corps officers, hospital administrators, wealth managers, and so much more.
If you are interested in applying to law school, please contact our admissions office to schedule a virtual or in-person visit. We look forward to meeting you. It's great to be a Saluki!
Camille M. Davidson
Dean and Professor of Law
Southern Illinois University School of Law
Past & Present Deans
1973 – 1980 | Hiram H. Lesar

1980 – 1985 | Dan Hopson

1985 – 1988 | Rennard Strickland

1988 – 1990 | C. Peter Goplerud (Interim)

1990 – 1994 | Harry J. Haynsworth

1994 – 1996 | Thomas Britton (Interim)

1996 – 2002 | Thomas F. Guernsey

2002 – 2003 | W. Eugene Basanta (Interim)

2003 – 2009 | Peter C. Alexander

2009 – 2010 | Frank Houdek (Interim)

2010 – 2017 | Cynthia Fountaine

2017 -  2018 | Chris Behan (Acting Dean)

2018 - 2020 | Cindy Buys (Interim)
2020 - Present | Camille Davidson