Main Content
The Juris Doctor (JD) degree is a post-baccalaureate program designed for those who wish to practice law. Traditionally, the 90-credit hour program takes three years to complete. Students who enroll in two continuous summer sessions may be eligible to graduate in two and one-half years. This program is a full-time, day-time program with fall admission only. This program is fully accredited by the American Bar Association and is a member of the Association of American Law Schools. The School of Law does not offer a formal part-time program.  
Our JD program selectively admits a small class of students each year, so you each get the personal attention you deserve. SIU Law focuses on taking the theoretical and turning it into what works. You'll master theory, but you'll also learn to understand that theory will only take you so far. To go the distance, you'll develop a skill set that you'll never stop adapting—skills that are in short supply yet in great demand.
Our curriculum equips you for a career in any environment—from a legal aid office to a large urban law firm, from a corporate boardroom to a government agency.
View the application process, requirements and checklist for:
First Year Student Requirement
International Student Requirements
Transfer Student Requirements
Visiting Student Requirements
More Information

Requirements
Credit
Hours
14 First-Year Required Courses
31
5 Upper-Level Required Courses
16
Academic Advising Menu: UBE Topics (must take 4 courses from list of approved UBE Topics Menu courses)
8 to 15
Academic Advising Menu: Experiential Education (must take 6 credit hours from list of approved Experiential Education Menu courses)
6
1 Course to Fulfill Senior Writing Requirement
3 to 5
Additional Requirement: Advanced Legal Methods Course (students in the bottom 15% of the class at the end of the first year)
2
Additional Requirement: Intensive Bar Preparation Courses (students with a cumulative GPA below 2.900 at the end of the first year must take all 4 courses)
12 to 14
Total Credits Needed for Degree
90
Additional Requirements for the JD Degree
Successful completion of the first-year Academic Success Program
Completion of no less than thirty-five (35) hours of approved pro bono work
The law school requires students to have a laptop. Students utilizing a laptop for exams will need to meet the minimum requirement for Examsoft (Chromebooks are not compatible with the lockdown feature of Examsoft).
Areas of Study
SIU School of Law offers its students a wide variety of courses and educational experiences. Students can identify the courses and special programs (including specializations and concurrent degrees) that are related to a particular area of the law or law practice.
Explore our areas of study here.
Experiential Education
SIU School of Law is one of the few schools in the country to guarantee its JD students an opportunity to participate in a legal clinic or field placement experience.
Learn more about experiential education.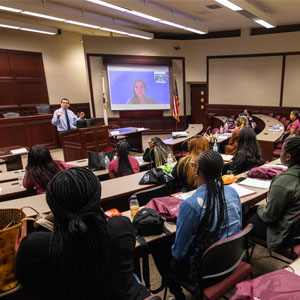 School of Law Rules Excerpt: