Main Content
The Judicial Externship Clinic provides a unique opportunity for law students to learn about the legal system by working for a sitting judge. While experiences vary from chambers to chambers, most placements allow externs to hone their research and writing skills while learning how judges make decisions and observing a wide range of courtroom proceedings.
EXTERNSHIP LOCATIONS
Extern opportunities are available virtually anywhere there is a courthouse or judicial chambers, including administrative law judges or specialized courts. Many students find that an externship opens up networking opportunities in the location where they plan to practice after graduation.
For more information on securing a placement, contact Professor and Director of Experiential Education Shelly Page at cheryl.page@siu.edu.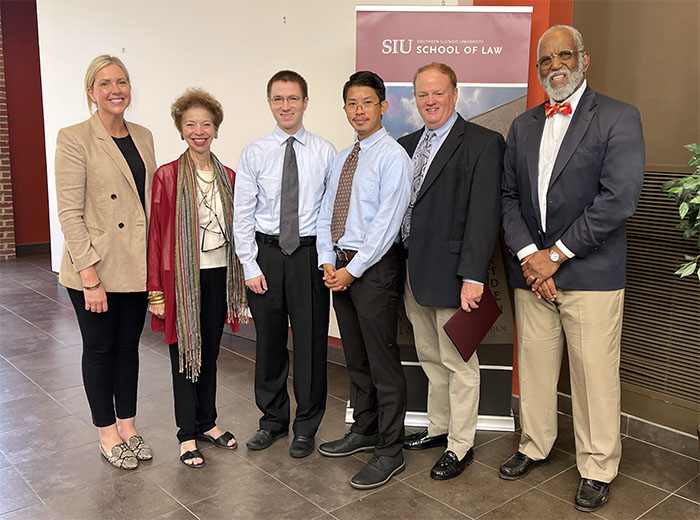 BENEFITS OF A JUDICIAL EXTERNSHIP
Extern experiences vary depending on the type of court and the personality of the judge.
Appellate courts - Externs working in appellate courts typically receive intensive exposure to appellate procedure, research and writing. Depending on the court schedule, they also have the opportunity to observe oral arguments. The externship provides an opportunity to build in-depth knowledge of the legal topics involved in the case(s) the externs are assigned, but limited ability to network with a lot of lawyers and judges. Because externs work closely with the judge's law clerks, these externships often provide excellent opportunities to get feedback to improve writing skills.
Trial courts - Externs working in trial courts are immersed in the full range of trial procedures and motion practice of their supervising judge. Although some courts have a specialized focus, such as family law courts, others expose externs to a potourri of legal issues on both the criminal and civil dockets. The research and writing experiences available in trial court externships vary from judge to judge. Federal trial judges typically offer writing experiences similar to appellate courts because those judges produce a lot of written opinions. Conversely, state trial judges more commonly rule from the bench. As a result, externs typically bring those judges the relevant case/statutes and present their findings orally. Because of the volume of activity in the trial courts, they typically present the greatest opportunities to meet a wider cross section of the legal community.
In either setting, students learn how courts operate, become familiar with the duties of various court personnel, and observe h ow judges handle ethical as well as substative and procedural issues.
COURSE REQUIREMENTS
The externship course is open to any student who has completed the first year of legal studies and has a cumulative grade point average of at least 2.6 (or with approval of the externship faculty supervisor if the student's grade point average is under 2.6). For more information on enrollment requirements, see the School of Law Rules relating to Clinics.
The externship course is graded on a Satisfactory/Unsatisfactory scale. Students may enroll for anywhere between 2 and 6 academic credits. For each hour of credit, students must complete a minimum number hours of externship work, with at least 20% of those hours from observing court or other proceedings, as follows:
2 credits = 85 total hours
3 credits = 127.5 total hours
4 credits = 170 hours
5 credits = 212.5 hours
6 credits = 255 hours
The Judicial Extern Clinic is now offered every semester. With advance approval from the Faculty Supervisor, students also have the option of completing an externship during the intersession between the Fall and Spring semesters. Summer externships offer flexible start times, which allows students to begin as early as mid-May or when the regular summer term begins in June.