Main Content
Anna Vick

,

Assistant Professor of Practice
Professor Vick joined the SIU School of Law faculty in 2019 as an adjunct professor. In 2021, she became a member of the Academic Success Program. Professor Vick works with 1L, 2L, and 3L students on time management strategies, analytical reading and critical thinking skills, synthesis of statutes, caselaw, common law, and legal theory, and legal policy analysis skills. She also works with recent graduates who are preparing for the bar exam.
Prior to joining the SIU School of Law, Professor Vick worked in private practice, as a legal advisor with the Illinois Secretary of State, as juvenile public defender, and as a mediator. She received a B.A. in Political Science from SIU in 2005 and a J.D. from SIU School of Law in 2009. 
Professor Vick's academic interests include learning theory in law school, collaborative law, restorative justice, and juvenile law.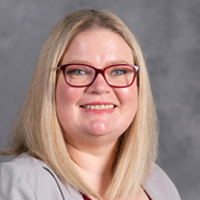 Office: Room 226
Phone: 618-453-8833
Email: anna.vick@siu.edu
curriculum vitae
Classes
500A - Mastering Legal Education
Lawyering Fundamentals
540 - Family Law
549 - Children and the Law
640 - Alternative Dispute Resolution