Main Content
Zvi Rosen

,

Assistant Professor of Law
Name: Zvi S. Rosen
Hometown: Teaneck, NJ
College: Yeshiva University
Law School: Northwestern (JD), George Washington (LLM in Intellectual Property)
Presently living in: Alexandria, VA, before that NYC, and clerked in Birmingham, AL
What areas of law do/have you practiced in? 
Currently focused on Intellectual Property, with some international trade and administrative law as well.  In the past I've been more focused on commercial litigation and bankruptcy though 
What classes will you teach at SIU? 
I'm excited to be teaching 1L Real Property, and also upper level courses as needed, focused on IP. 
What projects are you currently working on/research are you currently doing? 
I'm currently working on a few projects focused on the history of copyright law in America, looking at the empirics of copyright registrations from 1790 to 2015, as well as a piece that provides both a descriptive and quantitative study of copyright examination and rejection through American history.  I'm also engaged in projects including sound recording copyright and the meaning of "publication" in copyright law. Additionally, I'm also working with the Library of Congress and US Copyright Office on projects to make copyright records generally available and accessible 
Why did you choose SIU School of Law at this stage in your legal career? 
SIU Law is kind of a unique place – a smaller law school in a college town that's friendly and close-knit, and I'm really excited to get to know everyone there and be a productive member of the community and faculty.  After spending 13 years in New York and Washington, DC combined, I'm excited to be going to a place where I can focus on the things I value without the overhead and headaches of being in a city.  I'm also excited about the school's focus on producing practice-ready graduates, as someone who always tried to ensure students get a practical understanding of the subject that's being taught.  
When you are not working, what do you enjoy doing most? 
This is an interesting question, because for most of the past decade scholarship and teaching has been a second job and hobby, on top of practicing law and working for the Government at the Copyright Office and the Small Business Administration. Frankly I really enjoy research, writing, and teaching and can get a bit nerdy about it. 
That said, I also enjoy travel and photography – probably my favorite recent trip was to Banff and Glacier National Parks.  I also enjoy astronomy, although that's been hard from the DC area, and I'm excited to do more of it in Carbondale!  I'm also into trying new restaurants and listening to music. 
What area of law would you like to know more about? 
One interesting thing about legal scholarship is how you see your area of expertise come into contact with other areas and pretty much uniformly you then want to know more about that area to inform your research and teaching – this happens a lot with constitutional law, but also administrative law and other areas. 
Your advice to students who would like to teach law someday is …? 
The obvious answer is to start writing, and don't stop.  But I think the real answer is to find what you love doing within the law, and do that.  I wrote two articles while in law school, but neither really put a fire under me to make this a career.  It was the piece that I wrote while doing an LLM, which changed everything – I realized this is what I wanted to do, and from there the roadmap of the articles I needed to write was obvious.  But it all boils down to finding what part of the legal profession is your passion, and then being tenacious about it.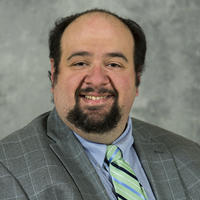 Office: Lesar Law Building 232
Phone: 618-453-8648
Email: zvi.rosen@siu.edu
Blog: mostlyiphistory.com
Twitter: @zvisrosen
curriculum vitae
Classes
554 - Business Organizations
522 - Property I
523 - Property II