Main Content
Camille Davidson

,

Dean and Professor of Law
Camille M. Davidson is Dean and Professor of Law at Southern Illinois University School of Law. She joined the law school in July 2020.
Davidson was a tenured law professor and Associate Dean for Academic Affairs and Faculty Development in Charlotte, North Carolina. She taught health law, decedents' estates, advanced decedents' estates, property, and bioethics. She also founded the Wills Clinical Lab where she supervised students who prepared estate plans for the low-income elderly population in the community and she taught bioethics at the University of Vilnius, Lithuania.  Davidson's prior academic experience also includes adjunct teaching positions at Wake Forest University School of Law and Davidson College.
Davidson focuses her scholarship on policy and practice issues, as well as legislative reform in the areas of health law and wills and estates. Her articles have appeared in various journals including the Columbia Journal of Gender and Law, the University of Missouri-Kansas City Law Review, American College of Trust and Estate Counsel (ACTEC) Law Journal, and the Athens (Greece) Law Review. Davidson also contributes to the online JOTWELL, The Journal of Things We Like (Lots).
Other legal experience includes serving as a Judicial Hearing Officer for the State of North Carolina where she presided over hearings in the areas of estates, foreclosures, partitions, guardianships, incompetency proceedings, claim and deliveries, adoptions, and legitimations and working with members of Congress and their staff as an Assistant Counsel in the Office of the Legislative Counsel, United States House of Representatives where she drafted legislation in the areas of health law (including work on HIPAA), small business, and ERISA. She also clerked for the Honorable John H. Suda, District of Columbia Superior Court. Davidson is licensed to practice in Illinois, North Carolina, Washington, D.C., Virginia (inactive), the Western District of North Carolina, the Fourth Circuit Court of Appeals, and the Supreme Court of the United States.
Davidson received the 2015 International Association of Law Schools Collaborative Research Award. She presented her work at the international conference in Segovia, Spain. She was also a Rotary International Ambassadorial Scholar and pursued postgraduate studies at the University of Nairobi, Kenya.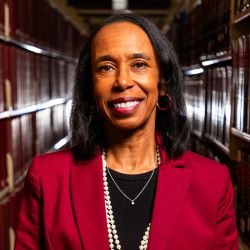 Office: Lesar Law Building
Phone: 618-453-8761
Email: camille.davidson@siu.edu
curriculum vitae