Main Content
Lorelei Ritchie

,

Associate Professor of Law
Professor Ritchie joined the law faculty at SIU in 2020, after serving for over 10 years as a judge at the U.S. Patent and Trademark Office. She is an expert in intellectual property and commercial law, including trademarks, intellectual property licensing, and law and technology. Professor Ritchie has a bachelor's degree from Stanford University (international relations) and a juris doctor from Columbia University School of Law (with a certificate of achievement in international and comparative law). She has taught at law schools around the country including UCLA, Florida State (FSU), and Loyola Law School (Los Angeles).
Professor Ritchie's research focuses on the social utility of intellectual property ownership and enforcement, with a focus on public entities in the marketplace, and on the creation and enforcement of intellectual property rights. Her articles have been published in the Indiana Law Journal, Houston Law Review, Oregon Law Review, Santa Clara Computer & High Technology Law Journal, and the Federal Circuit Bar Journal. She has remained active in the legal community, and she has chaired or co-chaired committees for the ABA, AIPLA, and the State Bar of California. Professor Ritchie has also recently served on the Editorial Board of the peer-reviewed AIPLA Quarterly Journal. 
Professor Ritchie will be teaching First Year Contracts and upper-level intellectual property courses, and she is excited to be the Faculty Advisor for the Intellectual Property Specialization.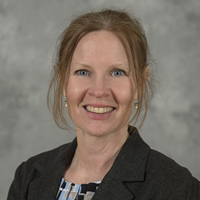 Office: Lesar Law Building 240
Phone: 618-453-8758
Email: lorelei.ritchie@siu.edu
curriculum vitae
Classes
511 - Contracts I
512 - Contracts II
630 - Intellectual Property
634 - Trademarks